From our partner—Banqer High
The crucial role of financial education in Australia
The pivotal role that schools play in their students' financial wellbeing
Australia is facing a cost of living crisis, with everyday expenses increasing faster than wages—which particularly affects low-income workers. This disparity is hitting low-income workers hardest, pushing vulnerable families towards financial instability, and sees many turning to credit cards or buy now, pay later schemes, accumulating bad debt just to keep the lights on and food on the table. A major contributor to this issue is low financial literacy, a problem affecting individuals and society as a whole. But what if the solution to social inequity lies right in our classrooms? Enter financial education.
Why financial literacy is crucial
Financial literacy goes beyond understanding money. It's about applying mathematical concepts to real-world scenarios, arming individuals with the knowledge and skills they need to make informed and effective decisions about their financial resources.
A recent report from Canstar, a leading financial comparison site, reveals a concerning trend among younger Australians—their financial literacy is particularly poor. 
Canstar's 21-question financial literacy assessment, which has had over 1000 responses since May, revealed that only 30% of Gen Z and 47% of Millennials could answer most financial literacy questions correctly. This gap in knowledge not only puts them at risk of overpaying for goods and services but also leaves them vulnerable in times of economic instability.
Integrating financial education into the curriculum
Marc Capstick, product owner at Banqer and former Deputy Principal at Mountainview High School, highlights an urgent need for financial education. However, he acknowledges that with teachers already stretched thin, incorporating this essential component into their curriculum can pose a challenge. "We know that kids are leaving school not prepared to face the challenges of the financial world, and we also know that this is true amongst young adults and even older adults, particularly as we're facing increasingly tough financial and economic times that people aren't prepared for. They just haven't had the opportunity to learn the basic core skills around personal finance and budgeting."
Capstick recognises that even adults can find many financial concepts intimidating due to complex terminology. "Incorporating financial literacy into the curriculum can be challenging for teachers," he says. But gamification, he suggests, offers a way to introduce financial concepts like insurance, budgeting, taxes, and pay checks in a relatable, real-life context.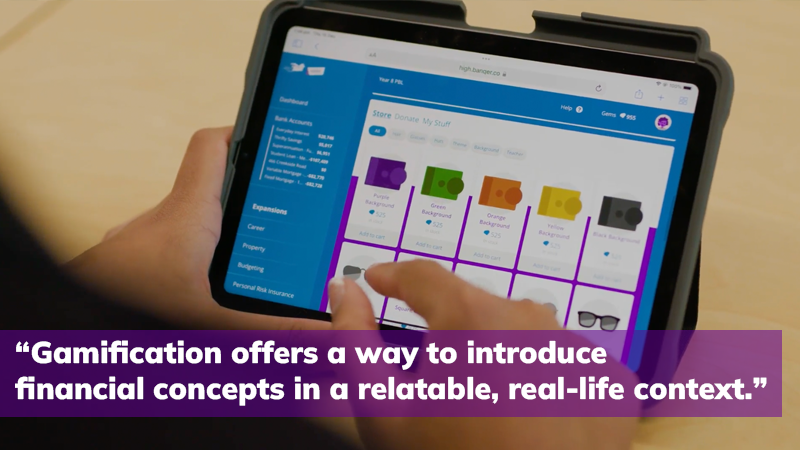 Making financial education engaging through gamification
Recognizing that traditional methods of teaching financial concepts can be daunting, Banqer High uses gamification to make learning enjoyable and engaging. The platform creates a virtual economy within the classroom, allowing students to explore financial decisions in a risk-free environment. Suddenly, mathematics isn't just an abstract subject but a practical tool for personal finance, budgeting, and financial decision-making.
Banqer High offers an immersive, virtual economic simulation designed for students in Years 7-10, with the upcoming Stage 3 of Banqer High, specifically designed for senior students, coming online in 2024. It provides senior students with the opportunity to test their understanding of financial concepts and allows students to make mistakes (and learn from them) without any real-world consequences. This approach not only makes financial education more accessible but also helps students develop critical thinking and problem-solving skills.
Largely self-led and self-paced, students will explore a range of financial topics, and the decisions they make will have ripple effects across the platform, impacting areas like income, living arrangements and budgets, much like in real life. The careers and pathways topic, sees students evaluate different study and employment options, make informed decisions on their career pathway, and create a Digital C.V. 
Capstick is confident about the impact of this approach, "How many of us left school without fully thinking through our work or study decisions? Banqer's Stage 3 will help soon-to-be school leavers develop the awareness and critical thinking skills to make thoughtful decisions for their lives. That's powerful stuff."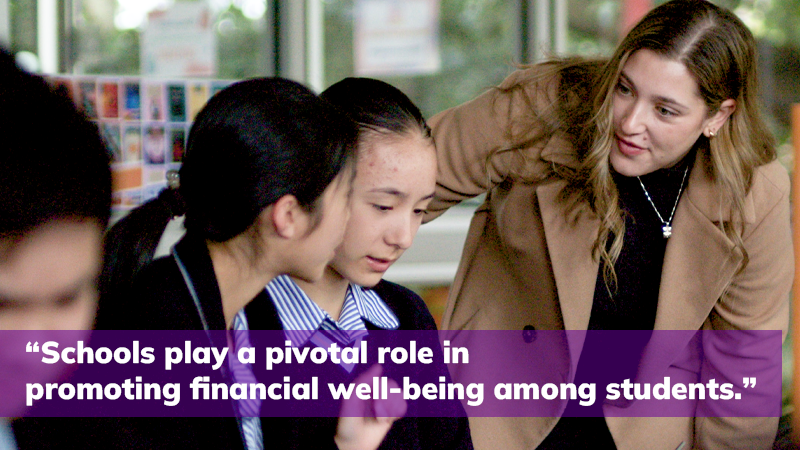 The power of financial education
Schools play a pivotal role in promoting financial well-being among students. Financial education is not just a necessity but an integral tool in addressing social inequity and preparing the next generation for their financial future. By incorporating methods such as gamification, we can transform complex mathematical and financial concepts into engaging and relatable lessons and make this important subject engaging and accessible for all students.
To learn more about Banqer and how it can help engage your students in financial education, click here.
Read about Teaching Digital Currency